Dreaming of Great Pubs in County Kerry?
"D. O'Shea's Bar is the Place to Go"
---
During my initial two year stay I visited many pubs in County Kerry.
If we were taking a hill walk in Kerry we would always aim to finish up by an open fire in a great Kerry pub.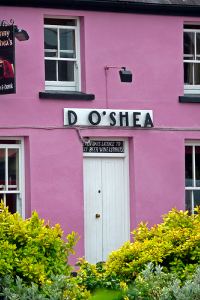 The same goes for any of the outdoor activities that I took part in. Whether it was surfing, golfing, fly fishing or mountain biking.
Even sightseeing on the Ring of Kerry with friends always seemed to end up with us sitting around a table with a Guinness or two telling stories.
However, there is always one pub that stands out above the rest.
Somewhere that each time I go back to County Kerry I make sure I visit for the excellent food, the friendly atmosphere and of course a great pint of Guinness...
"D O'Shea's Pub in Sneem is that one pub."
---
Set behind a simple pink façade in a row of shops in the south square of Sneem village it would be easy to skip straight past this building without a second glance.
At this point you may be wondering how it can be possible to walk straight past a building which is painted bright pink. This is a fair question but one which will be answered as soon as you visit the multi coloured village of Sneem – Every building is painted brightly.
Inside the pub is unrecognisable from the simple exterior. Warm and welcoming with a beautiful stone clad fireplace in the centre and lots of exposed timber beams. A large deck stretches out from the back of the bar which has wonderful views of the Sneem River estuary.
When I first discovered this great pub in County Kerry I have to admit that I was a little shocked at how nice it was inside.
Nowadays I downplay D O'Shea's before taking my friends, just to see the expression of happiness on their faces when they walk in and sit at the bar.
From here things only get better. The beer is always great but to top things off the food is outstanding. Probably the best value for money that you can find from any of the pubs in County Kerry.
I would go as far as saying that this is really restaurant food but at pub prices.
This explains why on summer evenings D O'Shea's bar is always buzzing with a nice mix of friendly locals and guests from the excellent holiday cottages in the area or from Sneem Hotel and Parknasilla Hotel.
Booking a table in the high season is a good idea so that you can be sure to avoid disappointment.
On the menu it is hard to recommend anything in particular as it is all so good. The soda bread which comes with the wonderful soups and the Irish stew is heavenly.
I am also slightly addicted to their excellent chicken curry and my Mum loves the open crab sandwich which is piled high with beautiful fresh crab meat.
If you have had an active day exploring the Ring of Kerry you will be delighted by the generous portion sizes. They almost have to be seen to be believed. I don't think anyone has gone home hungry after eating in D O'Shea's Bar.
If you have been to D. O'Shea's Bar or you are planning to go there after reading this please feel free to come back to this page and share your stories and experiences with us using the form below.
For more of our favourite pubs in County Kerry click here.
---
Return from Pubs in County Kerry to Kerry Beaches
Like Kerry-Beaches.com?
---
New!

Comments
---
Have your say about what you just read! Leave me a comment in the box below.