Derrynane Beach

"Life Doesn't Get Any Better Than This!"
---
Derrynane beach and harbour is a classy destination to visit if you are travelling the Ring of Kerry.
Not due to any sophisticated modern development...
In fact quite the opposite!
Here the great beauty that you will find has barely changed in many centuries.

---
Directions - From Kenmare take the Ring of Kerry to Caherdaniel. In the centre of Caherdaniel turn left and head just over 2km down to the coast.
---
Derrynane Harbour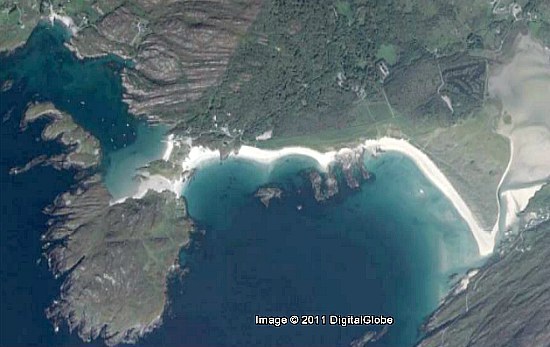 The natural harbour is stunning and deceivingly calm during strong Winter storms.
Over the centuries there would have been a great deal of smuggling activity in this area.
Like the smugglers and a great many people who have visited Derrynane over the years it is my ambition to one day sail into this harbour.
For now, at least, an hour or two messing around in sea kayaks would happily suppress this dream.
---
Abbey Island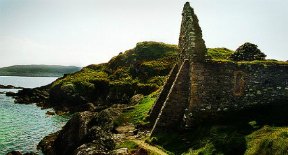 As if that wasn't enough, golden sands have built up connecting the mainland to Abbey Island.
On the leeward side of the island, sheltered from the winds, are the beautiful remains of St Finian's Abbey:
These date back to 700AD.
---
Danger Beach

From here there are great views over the largest of the beaches - known locally as Danger Beach due to the frequent strong currents.

The fragile sand dunes backing this mile long stretch of sand protect a rare area of wetland - home to a diverse range of wildlife including wading birds, butterflies and amphibians.
At the back of the dunes is also Derrynane House and gardens. These are famous as being the family home of 'The Liberator', Daniel O'Connell.
The gardens like, many in the southwest of Ireland, are rather more exotic than you would expect due to the warm Gulf Stream microclimate that exists here.
---
Blind Piper Pub, Caherdaniel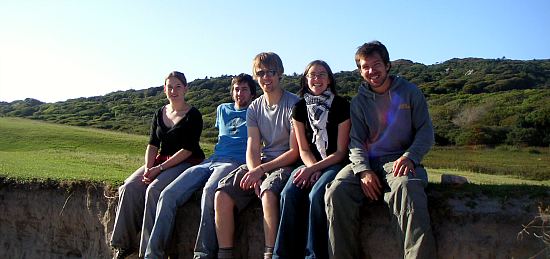 Before leaving Caherdaniel on your way home be sure to call into the famous Blind Piper pub.
Their food is excellent and after all that sea air you will deserve a refreshing glass of Guiness.
Here my friends and I were especially thirsty as we had first taken a beautiful short walk down to Derrynane Bay from the Kerry Way.
---
Return from Derrynane to Kerry Beaches
Like Kerry-Beaches.com?
---
New!

Comments
---
Have your say about what you just read! Leave me a comment in the box below.